Our collaboration is one of work and play, friendship and business, mothers and professionals.
Left to right: Elease Colcord, Kim Lively, Amanda Ambrose and Jessamyn Anderson - Photo credit: Amanda Ambrose
Raising a daughter can be brutal. The stereotypes we've been fed about how girls behave and treat each other may tempt you to believe that's the reason, but that's far from accurate. The real challenge is raising your daughter to realize she can own her truth— that she can be confident AND kind, beautiful AND smart, bold, funny AND sensitive despite the tales we've been taught.

Sisterhood. Strength. Leadership. These are the values I offer to my daughter (and any of her friends who will lend an ear). Finding your people to lift you up and strengthen your being, that's what it's all about! Surround yourself with people who make you feel good, who treat you well, who support you, who allow you to shine. And the best way to bring that message home is to lead by example.

Today that example is Collaboration. I've recently partnered with three other Plum Island women-moms-professionals, to help launch the Meraki website and online store. And just like the lifestyle that Meraki serves, our collaboration is one of work and play, friendship and business, mothers and professionals.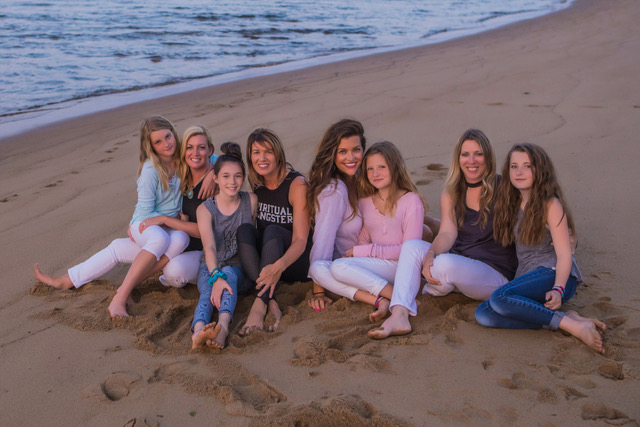 Photo credit: Amanda Ambrose

It's not always easy to manage what life throws your way, and supporting each other through highs and lows has been a safe haven for our families. From dinner parties and late night chats, as neighbors and friends— we're there for each other. Our kids are besties, they run as a pack— and with this unique mix of work AND play, we do too!

Kim Lively, the fashion-forward owner of Meraki is taking her athleisure empire to the next level, opening her shop to the world as she launches her new website and online store.

Jessamyn Anderson of Dingo Creative was at the forefront of the site's sleek design and user-friendly experience.

Amanda Ambrose of Amanda Ambrose Photography captured the detailed clothing and the very essence of the Meraki brand: #Welivelikethis. Clothing to work in AND play in…and look damn good doing it!

And for my part--although I've always considered myself a 'model citizen', this has gone too far! Making a splash as the site's cover model has been a whole new experience for me! They saw a The Sunny Side of Something that I did not, pushing me toward new adventures. I'm honored to guest write the maiden Meraki blog post!

By supporting and inspiring each other, raising our kids, and balancing work AND play, we raise each other up and show our daughters how it's done: Be our best. Work, live and play with people who make us feel good, and simply experience it all! They're not just sayings, they are our truths. #WereallyDOlivelikethis!
~Elease Colcord

Follow links for more from:
Meraki Newburyport Facebook Instagram
Meraki Portsmouth Facebook
Dingo Creative Facebook Instagram
Amanda Ambrose Photography Facebook Instagram
The Sunny Side of Something Facebook Instagram